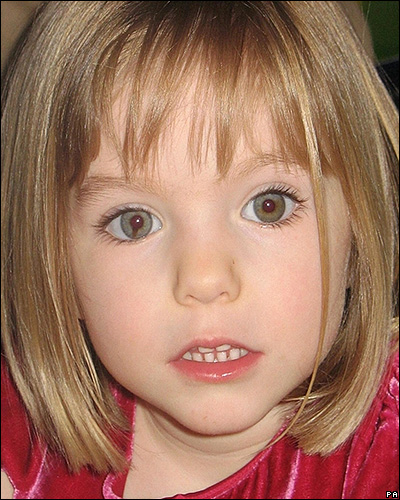 Forward
The facts about this sad story have been widely published all over the world. Therefore, they can be considered as belonging to the general common knowledge and it does not seem to be either opportune or significant to repeat them once again on this site. What is written here concerns only the way the abduction was dealt with by the Portuguese police, politicians and media.
Historic Background
We have read many things about Madeleine's unfortunate epopee. Anyone living in Portugal cannot escape all TV broadcasts made up of a case that improper backward third world reporters transformed into some thing like a photo blow-up. Some people, including corrupt politicians say that these reporters are very aggressive. Well, if you listened to their interviews you would get the idea that their stupidity covers up their aggressiveness by far and large; as they never ask the right questions one ends up always without the really needed information. They are aggressively ill bread, yes, not appropriate professionals. Yet, in a country where education courses are much below the European level, they want to be called doctors. Yeah...
Security
We must bear in mind that until quite recently Portugal was one of the most secure countries in Europe, something like UK in the fifties and most of the sixties. However, something has changed through the last couple of decades. When Portugal entered the European Union – at the same time as Ireland did – started receiving the cohesion funds to allow a faster progress and levelling with the other European countries, these funds were not used as required, originating the present extreme backwardness, unproductively, poverty and wretched mentality. In fact, rotten and corrupt political clans, forming authentic oligarchies used maladministration and stole the funds, distributing the money among themselves, their friends and whoever would corrupt those who administrated the funds. This was in clear opposition to what happened in Ireland, as well as with other countries that could make their way as expected. Portugal, that has never been a rich country, became a poor country of pariahs. Obviously, under these circumstances security became something of the past, even if politicians do not want to admit it because the fact is their fault.
The short description in the last paragraph is meant only to help understanding that what goes on in Portugal today involves and shapes everything, including the police on Madeleine's case. A more detailed description can be read somewhere else on this site and includes how the European Union covers up and admits corruption, even when it concerns abuse and spoiling the money of the honest tax paying citizens from countries contributing to the funds. The EU consents corrupt governments on maladministration and stealing of the European funds.
For those really wanting to know what exactly has bought Portugal down to the present iniquity, there is an even more detailed recollection of facts in Portuguese with Google translation.
---
How Police Works
Not only police is unable to deal with many cases, as they do not even behave as civilized, as can be read on the reports of every Human Rights organisation. Just search the Internet and read. They torture and kill people in their headquarters during investigation hearings led very much in an inquisition style. A few years ago, a police chief decapitated a man during a hearing. The head was later found and the police chief tried in court and condemned. Nevertheless, it happens. The renowned behaviour and incapacity of the police forces is a fact, however obviously not of their own fault. For over three decades, highly corrupt governments have never had the necessary care to educate, prepare, instruct, and train the police staff to do their jobs decently and efficiently. Owing to the fact that Portugal was a safe country, they just did not care at all. Further more, with the police command happens just the same as with any department heads in the country. the are al dominated and taken by the corrupt political oligarchies, all nominated, none of them subject to public contest in order to be managed by competent people. Every time a government changes the wining party sweeps all the head jobs in the country. And abroad they tell this is a democracy!
Under these circumstances, only people not acquainted with the hard reality will believe that they will ever find Madeleine's track. If they ever find anything, that will be only owing to outside help. Some witch-hunts apart – as we have already seen – there is not much more they know how to do. We have to bear in mind this is not their fault, as explained on the preceding paragraph.
A Great Reporter
On 14th May 2007, there was a program on the national public TV, RTP1, a talk about Madeleine's case. One of the participants was the reporter António Esteves Martins. He has been an RTP reporter for quite some time. Probably, common people from other countries do not know or never heard about him – he is never seen on other countries TV news, of course – but his colleagues from the European countries he goes constantly to on his permanent work surely do. He reports from almost everywhere in Europe, therefore well known to his local colleagues. He has the bad practice of regularly criticizing the countries from where he reports, putting on a face of despise.
No Low in The UK
Well, on the 14th he did not miss the opportunity to vomit all his loathing on the UK about almost everything he could connect to Madeleine's case, as well as other things that came up to his backward stupid mind. For him, the British police is unable to do its job. The British police does not work the way he believes it should. They should not communicate their investigations to reporters, they are very inefficient because they are unable on tracking crime.
After what happened that made the Portuguese people so backward, as mentioned above, he still insists that they are better than any other country, always depreciating all others. For him the UK is full of child abusers and the police are unable to catch them; the British police does not solve any case.
He belongs to that group of people that does not permit any advance to his country because they hide the truth, therefore forbidding the people to recognize what is wrong and has to be changed. If they believe to be all right the way they are, why should they try any change?
What About His International Colleagues?
We believe that his colleagues who know him should explain his behaviour to the peoples of their respective countries. The stupid guy also spoke evilly about a Swiss lady who told him that Portugal is a nest of general corruption, as if she were saying anything that no one knows either in the country or out. He dismissed everything and spoke about the lady as if she were the devil. However, most people know about this fact today. He is a liar, a real con artist. Anyone having lived in other European countries and could notice how the nationals progressively changed their opinion when the new Portuguese immigrants started arriving with their new mentalities, backwardness, and corrupt behaviour.
---
Now, What About Madeleine?
Nothing Done at the Beginning.
After all this, and remembering that the Portuguese police missed so many required procedures at the first hours and days that followed the disappearance of little Madeleine, right when they were most important, again, it is not believable that they will ever find her.
They run immediately to the place, but this was only a show up. Indeed, they haven't dine anything that we might call a head start for about fourty eight hours, exactly when it was most important,
They missed too many opportunities, like dismissing information from national citizens at the beginning, but listening to the same information over a week later when it came from a British citizen, too late. Many days after the abduction, we could see an helicopter in the air, only to show off, because then it was useless.
They did not alert the marine or the border police or call the press trying to spread the word early, no door-to-door inquiries, did not secure the scene properly, a big nothing, as usually, at the most important time. They shut up all information.
The extremely rare physical characteristic on her right eye, comparable to a mark, and difference in the colour between Madeleine's eyes where announce only about one week after she disappeared. We do not believe that her parents effectively skipped the fact when informing the police, but this should be investigated and cleared.
Their official internet web site is almost empty of usuful data and information that could help for everyone seeing or searching for the toddler.
Because of this inept and unskilled proceeding, with all borders and ways wide open, we firmly believe the toddler was immediately taken away out of the country, probably to Morocco. (The name of Morocco is only a possibility, she can be anywhere, but there it is easy to hide her away). We also firmly believe that the Portuguese police have been perfectly aware of this since the second or third day after the abduction. Therefore, all they have done since is no more than a show off, diminishing the interest on the policies of other countries on this case.
The possibility for the kidnapper to get rid of the child grows with every day that passes, making for him impossible to hide Madeleine and endangering him. The probability for her to turn up dead also keeps growing proportionally day by day.
The Police Awaked With a Show Off
The way they behaved looks like they wanted to give the kidnapper(s) an opportunity to get out of the country. When they woke up and started in a more serious fashion, surely the child was already out of the country. About one hour is enough to cross the border from where Madeleine was. We cannot and do not believe that this was done intentionally, but that is not important; important is that the way it happened is just as if and precisely with the same consequences.
If they have never found any missing child up to date, why should they find Madeleine now? All they finally did was under the pressure of British police and press. They have never done so much in their history, not at least with the nine unsolved cases of disappeared national children. They are unable on their jobs. No education, no preparation, no instruction, no training, nothing – not their fault, but real. After all, they are always too late on everything, just like the government and everyone else in the country. Lazy people, the judges only "solve" one half of the cases their European colleagues do (according to Eurostat), the others they close without any investigation. Generalized corruption, mainly at the highest levels of governments has turned this country into the dirtiest sewer of Europe, worse than most third world nations.
Don't you think you should help spreading the truth and try to end up with hypocrisy? If you do, tell your newspapers and TV stations. Tell them to obtain and watch a recording of the program «Prós e Contras» broadcast by the national Rádio e Televisão Portuguesa on their RTP1 channel on 14th May 2007
---
How Crazy
According to the Daily Mail, this is a reproduction of the e-fit of Madeleine's suspected abductor as drawn from memory by one witness who has seen the original. Apparently, local police has shown a sketch like this to residents in Praia da Luz. If this is so, have they gone nuts?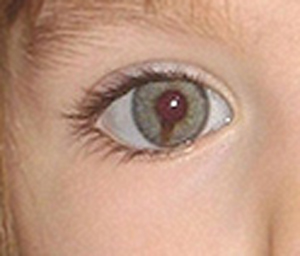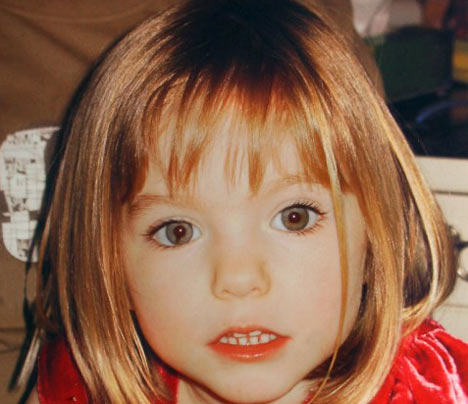 Reminder
The remaining of this unfortunate story has been very widely published all over the world. Therefore, it can be considered as belonging to the general common knowledge and does not seem to be either opportune or significant to repeat on this site what everyone know.
New events have been added below.
---
Other Lost Children and Adults
Please, try and help to find them too.
---
Follow-up
(9-9-2007)
Police
Police training and ability
Police behaviour and skill has been proved in this case, as state above. The developments since those events confirmed and sustained the police behaviour, skill and capability. It took them months to get the idea of using dogs on a comprehensive smelling search, not just as in the preliminary search, as they did. Why have they not done this earlier?
Well, maybe they are not fully guilty for their amateur behaviour. In fact, the highly corrupt politicians forming all governments (for further explanation on political corruption, please click here – the well known past corruption in Ireland was a shadow of what has been going on in Portugal for decades) have not offered a proper training or resources for decades. Police officers cannot even be motivated.
Police behaviour
They are not conveniently trained on how to conduct a questioning. Instead, they just want to get a confession breaking all Human Rights rules on investigations, according to Human Rights Watch (links: 1, 2, 3) and Amnesty International (links: 1, 2, 3, 4, 5, 6, 7, 8, 9) reports. As they are desperate to get the facts, they ill treat and torture people, beat imprisoned people, kill people in their quarters or in the open. When they beat people to death, the corrupted General Inspectorate of Internal Administration (IGAI) finds no evidence of assaults by the police officers, and affirmed that, contrary to reports, the autopsy had not discovered any external signs of violence.

On the streets they shoot indiscriminately, hurting and killing, in a way that reminds us of the present British police behaviour, but in a slightly worse fashion. They have the most rudimentary training either with the use of arms or how to speak to people, even less psychological knowledge on how to deal with difficulties. They have there bare hands to do their jobs, no brains because of lack of training.

---
Do Not Miss to See Also
Large Fraud, Corruption and Maladministration in the Use of Community Funds in Portugal
This is the origin of all problems, including the way police works. It also affects all European Tax Payers , Cheerfully Allowed by Brussels
For those really wanting to know what exactly has bought Portugal down to the present iniquity, there is an even more detailed recollection of facts in Portuguese with a Google translation facility.
Any communication can be left right here. Please leave your e-mail address (will not be published) if you expect any answer.
---